Organic traffic goes wild when your Search Engine Optimization is on track. Tune in as SEO expert and host Erica Glessing shows you how to tame the Google monster and enjoy more organic traffic and leads from your website with search engine optimization. Practical tools and free tools highlighted. Then pop over to SEOforLeadGen.com for a free seo audit!
Episodes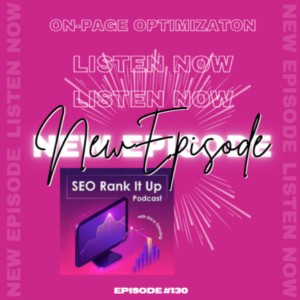 Tuesday Jun 28, 2022
Tuesday Jun 28, 2022
In this riveting new episode of SEO Rank It Up Podcast, host Erica Glessing shares how to make your pages stronger, better and cleaner! Don't forget only one big headline per page, and if you're up for the challenge, give it an active verb and make sure it is less than 60 characters. On-page optimization is about putting yourself in the shoes of your audience so you can make sure your page out-shines the competition.

And as we talked about on the show, contact Erica Glessing today for a complimentary website audit! 

SEOforLeadGen.com for more! 
Brought to you by @horsepersonified on YouTube!

https://youtube.com/shorts/kOFkHdzLcSc?feature=share